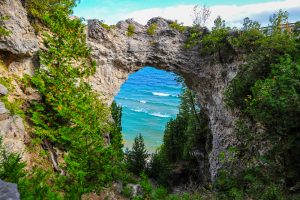 Are electric bikes allowed on Mackinac island? Mackinac Island State Park's historic feel has been preserved in large part due to the ban on motorized vehicles. Using an e-bike anywhere on Mackinac Island, including Mackinac Island State Park and the city itself, is illegal under current state law. The Commission of Mackinac Island State Park and the City of Mackinac Island are an exception to this rule. In compliance with MISPC procedures, visitors with impairments, as defined by 42 USC 1202, may ride Class I electric assist tricycles/bicycles throughout Mackinac Island State Park. Class, I electric bikes can only go up to 20 miles per hour and only have pedal assist. Electric motors on Class I e-bikes are normally capped at 750 watts, and they are only meant to kick in while the user is exerting force on the pedals. here, you can see all about related Are electric bikes are allowed on Mackinac island.
They are pedal-assist only, which means they are accessible to people who may not be able to ride a regular bike, and they help maintain the island's century-old motorized atmosphere, which is typified by horses and regular bikes. Similar legislation was approved by the City of Mackinac Island, which is where the aforementioned exemption is modeled after. No electric bikes with throttles are permitted on the streets of Mackinac Island or in Mackinac Island State Park. Every electric bicycle must clearly display its classification as a Class I, Class II, or Class III vehicle. If an electric bicycle does not have a label indicating that it is a Class I bicycle or has been changed to match this classification, the rider may present evidence to support the claim.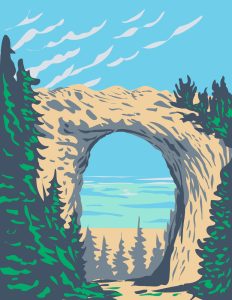 City ordinance on Mackinac Island defines "mobility disability" and details the requirements for approved electric bikes. In order to spare you the tedious task of reading the entire legal document, here is the gist: Rent an e-bike on Mackinac Island, or carry your own aboard the boat. "a physical impediment that considerably impairs the individual's ability to pedal a bicycle," reads Mackinac Island's e-bike ordinance. According to the law, a person is considered to have a mobility limitation if they are unable to walk 200 feet without resting or if they need assistive equipment in order to walk. Likewise, disorders affecting one's respiratory system, heart, joints, nervous system, or limbs might be categorized as mobility impairments.
Bicycles and tricycles with two or three wheels are examples of Class 1 e-bikes. The electric motor is no more powerful than 750 watts. Only when the rider is exerting force through the pedals does the motor begin to assist, and it cuts out after the bike hits 20 miles per hour. Motorized Class 2 bicycles, which can be ridden even while the rider is not pedaling, and motorized Class 3 bicycles, which can reach speeds of above 20 miles per hour, are not allowed on Mackinac Island. If your license is a Class 2 or Class 3 e-bike and you want to ride it on Mackinac Island, you may be allowed to do so by converting it to a Class 1 e-bike. To do so, you may, for instance, disable the e-throttle bike or set its computer to a maximum speed of 20 mph.
The extensive regulations for electric bicycles on Mackinac Island may seem excessive. While cars are banned on Mackinac Island, visitors with mobility issues will still be able to see the island's breathtaking scenery. Mackinac Island has some tough terrain. After all, the high bluffs were the main selling point for the British when they decided to relocate Fort Mackinac to the area. Making electric bikes available to those who require them is an important step in ensuring that all guests have the opportunity to enjoy the area's many cultural and historical treasures. However, it safeguards the non-motorized atmosphere that has made Mackinac Island so unique for over a century. More than 80% of Mackinac Island is a state park with the same regulations for e-bikes. Bicycles are in the thousands on the streets of Mackinac Island.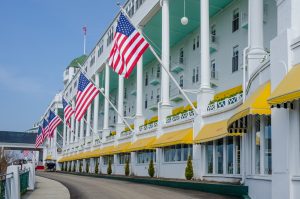 Including electric bikes, which are allowed for specific individuals. One may ride a Class 1 electric bicycle on Mackinac Island if they have a "mobility handicap," as stated by the city ordinance. Mackinac Island's three non-motorized modes of transportation are as follows: To explore Mackinac Island on two wheels, either rent a bike once you arrive or carry your own on the ferry. Discover Mackinac Island's Bike Scene. Mackinac Island horseback rides are available in the form of both taxis and guided tours. You can ride a horse, or you can drive your own carriage. Discover the Horse Culture of Mackinac Island. Mackinac Island, Michigan, is a historical island where cars are not allowed. The use of electric bikes on Mackinac Island is already divisive.
Are electric bikes allowed on Mackinac island? Yes. The government has issued a warning for people to exercise caution. With batteries after a recent blaze was started by an exploding one. When asked about the storage of e-bikes and e-bike batteries, Mackinac Island Police Chief Doug Topolski said on Thursday that "whatever action is necessary to guarantee that bikes and bike batteries are not stored indoors under any circumstances." Topolski said that an exploding e-bike battery was to blame for a recent residential structure fire that sent firefighters to the hospital with serious injuries. Permanent islanders and seasonal workers live in the region that was threatened by the recent fire.
Mackinac Island and electric bikes: What to know before you go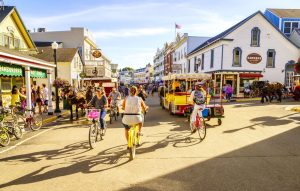 Are electric bikes allowed on Mackinac island? In MACKINAC ISLAND, Michigan, The use of electric bicycles has become increasingly common in recent years. People riding e-bikes with pedal-assist features or fully engaged motorized throttles are a common sight in neighborhoods, on local bike paths, and even in bike lanes on municipal streets. Many models of electric bikes have a top speed of around 20 miles per hour, but others may go as fast as 30 mph. The downtown streets of Mackinac Island are bustling with horses, tourists, shoppers, and hundreds of traditional bikes, so it's easy to see how safety concerns may develop if a large number of e-bikes were to be brought together in one place. That's why you won't find any electric motorcycles on Mackinac. As required by state law, this was passed as an ordinance in the local community. Those who get in trouble with island law enforcement for breaking this rule will have to pay a civil infraction fine of $110.
Although this has been in operation for several summers, some tourists still seem unsure of what is and is not permitted each year. The regulations, especially the provision for those with disabilities, are simple. It doesn't matter if you're riding in the middle of the city or inside Mackinac State Park; the rules are the same in both places. Unless you are "a qualified individual with a mobility limitation," as defined by the island's city administration, you are not allowed to ride an e-bike on Mackinac Island unless it is a Class I electric bicycle. What, then, is a Class I electric bike? The local law of the island states: Power output from its electric motor is capped at 750 watts. The maximum speed is 20 mph. Only when the rider is exerting force on the pedals should the electric motor kick in. No electric bicycles that require the use of a throttle in order to operate are permitted on the island. If your Class II or Class III e-bike has a throttle, you must remove or disconnect it in order to ride legally.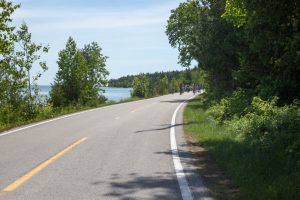 Mackinac Island Police Chief Doug Topolski has decades of experience in traffic law enforcement after serving for 28 years in the Dearborn Police Department and another four years with the Detroit Police Department. "It's not confusing," he added. "But it's confusing to kids when you tell them something they don't want to hear," Topolski said his police may have trouble enforcing the rule until they catch an e-biker red-handed utilizing the throttle. A good illustration of this would be someone riding an e-bike up the steep hill on Cadotte Avenue toward the island's Grand Hotel without even touching the pedals. The people "make a half-hearted attempt to peddle" when they spot us, Topolski cynically observed. However, authorities are not permitted to inquire about an individual's specific impairment, and they do not conduct random checks of bikes carried on the boats to see whether or not they qualify for an exemption.
conclusion
Are electric bikes allowed on Mackinac island? Mackinac Island is a popular destination for cyclists because of its beautiful M-185 perimeter road and miles of shaded interior roads. Cyclists can bring their own bikes or rent them from one of the many bike shops on the island and get in shape while taking in some of Michigan's most breathtaking scenery. According to the chief, roughly 130 bike-related injuries occurred on Mackinac last year, which is very high for an island that receives about 1 million people over the course of six months. Topolski has expressed an interest in reforming the current system so that Main Street and Market Street, two of the busiest thoroughfares in the city center, have more reasonable speed limits for all vehicles. Their speed is estimated by him to be around 10 miles per hour. Those in this category would include people on foot, people on bikes, horses, and carriages. Although the island can't just slap up speed limits, that'll take some lobbying with local lawmakers. By doing so, he continued, "all the units would approach the same speed."