Attempting to fix your bike is the best sensation ever, and acquiring your bike work stand is a significant step in that direction. They position your bike so you can easily do minor or extensive repairs. Stop damaging your handlebars by overturning your motorcycle.
What is an e-bike repair stand?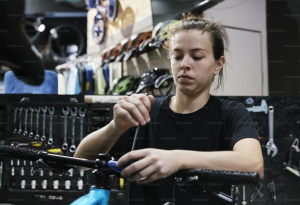 An essential tool when working on your bike or performing repairs is a bike repair stand, also known as a work stand. It is a stand designed and built to help technicians operate more efficiently. The frame is built around a sturdy, one-piece aluminum column that supports all the wires on the inside and provides excellent stability, ensuring that nothing gets in the way when working on a bike. The bicycle is always in the most comfortable posture for working on since it is powerful enough to elevate even the heaviest bicycles to the correct height easily. Electric repair stands are not only practical but also clever. With the touch of a button, it can automatically lift or lower a bike and offer unlimited height adjustment. When the cycle touches the ground, it automatically comes to a halt.
Why is a repair stand convenient?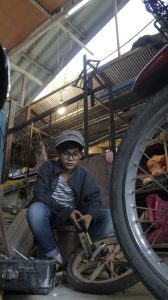 A repair stand can be found in various shapes and sizes. Smaller, readily portable platforms that firmly hold the rear wheel allow you to work on your bike in multiple locations. The best stands for workshops and severe home mechanics are those having permanent plates to hold them in place. Most home mechanics find that many work stands offer a secure platform to work on their bikes and the convenience of storing the frame.
Features of a basic ebike repair stand
A system that automatically stops with a built-in safety function to protect the technician and the bicycle on the stand

constant height adjustment

limits for adjusting travel

There is nothing in the work area due to the main electricity supply cable entering from the top of the stand.

secret wires

Dual USB port for charging

Professional shop repair grip is 1693.1M Anti-slip clamp connector is present.

An extremely stiff frame is created using bolts to assemble the central column.

Firmly fastens to the ground or a sturdy metal fixed plate.

Huge, robust fixed plate with the floor-leveling capability

No assembly is required; install it in place, connect the electricity, and get to work.
Technical information of a basic ebike repair stand
Dimensions: W750xL750xH2072 mm; 106 kg (with a steel fixed plate)

Highest point: 1780 mm

400N of load capacity (40kg)

Energy: 0.25 kW

Voltage for steering: 5 V

220 V; 50 Hz as the input

Motion rate: 3.3 m/min IP classification: IP30 – for use exclusively inside

55 decibels (dB)

CE conforming
how to choose an e-bike stand
When purchasing a bike repair stand, there are many things to consider. For most of us, our neighborhood bike shop will always come to the rescue for essential t basis requiring specialized equipment or mechanic skills that we lack. To avoid tiny issues from growing into larger (and pricier) ones, it doesn't harm to study a few basic fixes or even to maintain your bike. Also, by fixing your bike, you not only save time and money but also get to know it better and learn how it operates. A solid bike repair stand is essential for the fastest home repair solution. With your hands-free to adjust components and with easier access to all important service points, it securely and conveniently secures your bike.
How do repair stands work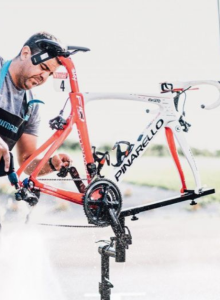 There are many different bike stands, but they all have a before compression spring that closes down to secure a bike firmly. Every tube or Seatpost can adjust its circumference by changing the jaw's opening. It's like the clutch and spring motion of a fast hook that will soon become outdated. To get it right, you may need to make a few changes.
Anywhere used to be an excellent place to clamp down. Today's bikes are made of less durable materials than the standard steel of the past. A tube made of carbon or metal can be damaged or even crushed if you clamp down on it firmly. This can create a lasting impression. The Seatpost is the answer. If you're not sure your bike tubes are made from steel, only use that for the clamp.
One of the most important aspects is the ease of handling. The head's clamping framework must be simple, one-handed, and intuitive. Nobody desires to spend ten minutes handling their bike while using their other hand to fix the clamp.
 .a stand that isn't stable on all surfaces, even the most valuable and comfortable head clamps would be completely useless. Despite some significant variations between systems, all stands should comply with the following requirements: the distance of the legs, the slope and hardness of the tubing, and the connections. Ideally, every link should be protected by a bolt to allow for tightening, and each element should be easy to replace if needed.
Bicycle tasks can arrive in varying forms depending on your needs, money, mobility, and storage needs.
Things to consider when choosing an e-bike repair stand
The solution is simple. It must be durable, credible, and long-lasting. We mainly focused on portable models. Even though strength is essential, there are other significant factors to consider. For example, lightweight arms, legs, and tubing are necessary for nimble handling and transportation. A service tech stand must also be stable to withstand robust use and frequent assembly and disassembly. The process has to be quick and straightforward, and the folded frame must be packed up as small as possible. The more compact it can be when collapsed, the better, whether you're storing it in your car, apartment, or basement.
A more enormous clam than we typically see. More extended clamps spread the clamping and pressure over a wider contact surface, preventing undue pressure on any of the edges.

A comprehensive, thick, and non-slip rubber that is durable and tears, so the clamp enables gradual attachment of the bicycle to the e-bike to assist and prevents the bike from moving.

Your e-bike structure should fit in a caliper opening that is large enough for it. The frames of electric bikes with built-in batteries are substantially wider.

Larger bikes can be fastened without running into the existing frameworks with the pedals if there is enough space between the clamp and the pillar of the e-bike supports.
Which Clamp Model Suits Your Requirements the Best?
Generally speaking, there are two different kinds of repair stands those that use a clamping system to clamp the bike to, well, very much whatever tube you want to fix them to, and Euro-style models, often known as race stands, which attach the bicycle to the bottom bracket and front or rear dropout. There are basic models and models for professionals in each of that division, each ea of those divisions, and there are basic designs and models for experts. There are also portable and fixed stands.
Types of electronic bike repair stands
Clamp style stands

Clamp-style supports to secure the bicycle to the Seatpost or framing bars (however, we advise against fastening the tubing as it may harm your frame). They don't operate well on all aero seatposts and – anti-tubes because the clamping device is circular in shape.
Euro-style or race stands
The bike's bottom bracket and front or back end are held in place by euro-style or race stands. These are great for aerodynamic bikes or other bikes with unusual tube designs. However, ensure the frame has the proper adaptor if your motorcycle has through – the axles.
Two legs vs. three legs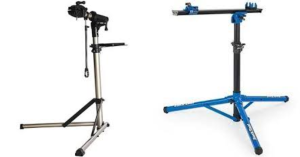 In general, neither system has a clear edge over the other; each has benefits and downsides. Two-legged work platforms often have a lower overall footprint, more significant space for pedal motion, and a little bit more strength under load. On the other side, they are far less sturdy when empty and aren't the best option for sloped or rough surfaces; in these situations, three-legged stands are much more suitable. These enable the bike to rotate 360 degrees and adapt better to the floor, thanks to a center.
The link between the legs and the center column, which isn't usually stable enough and can cause the stand to bend under heavy loads, is the only problem area of three-legged variants. The space between the pedals and the central column may become constrained in particular circumstances. In general, we advise a two-legged stand for use in the home workplace and a three-legged model for use in mobile environments and on rough ground.
When to purchase a bike repair stand
Even though a bike repair stand is not required to maintain your bike in top condition, most riders buy one once they become more active in bike care.
You will start to learn how to take better care of your bike as you become more accustomed to it or as your interest in it grows.
This can range from polishing and cleaning the chain to changing the casing and cabling. Using the barrel sliders, you might even be able to modify your gears and brakes slightly.
When you can do the repair yourself and save money, transporting your bike to the Store appears to be a waste of time. This is how many riders gather equipment over time until they have a complete bike store in their garage. This will simplify your life and improve your ability to work on your bike.
The following situations require buying a bike repair stand: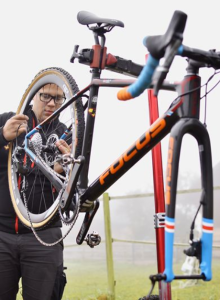 When you wish to handle your bike Whenever,

whenever the Rear wheel modifies needed Modification of the gear or wiring.

determining the source of motor sounds

regularly maintains your motorcycle.
Working on your bike is usually essential because it's difficult and uncomfortable to work on a motorcycle lying on the ground. A bike stand that can raise your bike to a convenient working height may seem minor, but it is essential.
How to Get a Bike Repair Stand Affordable
The initial price of buying a bike repair stand might be a little discouraging if the situation arises when you find it in need.
Here are some tips on purchasing a bike repair stand while saving money.
Purchase a secondhand stand
Buying secondhand is one of the finest ways to reduce the cost of a bike repair stand. This could also be from your Store or a website like eBay.
Purchase a folding stand
Both fixed and mobile bike stands are frequently available. A portable bike stand is less expensive and handier, even if you're a do-it-yourself mechanic.
Be persistent
Finally, when purchasing a repair stand, exercise patience. This gives you time to conduct a thorough study and keeps you from buying useless crap.
Other options besides purchasing a bike repair stand
Here are a few options to buy a bike repair stand if you're not yet ready for one or assume you could get by without one:
Flipping the bicycle over its side
This is easier if you're operating on your rims or motor, but there are better choices than this if you're trying to work on the cabling or gear.
a vehicle rack or a rack for bicycles
Amazingly, you can use a vehicle or bike rack to work on your bike. It won't provide you the most significant amount of flexibility or mobility, but it will give you a quick way to lift your bike so you can cycle everything without limit.
securing the bike using a wire or rope
Many cyclists hang their motorcycles from the roof using chains or ropes. Although the bike will be easy to switch, you may still perform simple repairs that are often hard.
Using the door and bath rod technique
Using a bath rod and doorway is one of my favorite replacements for a bike repair stand. In short, you get one of those cheap shower rods with a spin pattern and attach it to a doorway. Choose a suitable height to lift your back wheel off the floor and rest the bottom of your bike seat.
Although it's not the safest option, it gave me time to identify and change the gears on my mountain bike.
The best Ebikes repair stand
Based on quality, cost, durability, use, and endurance. The following has been evaluated accordingly.
Park Tool's PCS-10.3 Deluxe Home Mechanic Repair Stand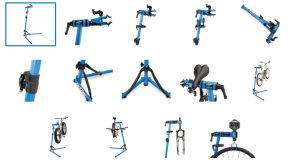 A fully functional work stand for fixing bicycles at home. This is considered the best repair stand based on performance. Anyone who has recently used a Mountain Device stand will be familiar with the mechanism; it is dependable and has a rubber shield to secure your bike from damage. Maximum rigidity and stability are assured by the stand's all-steel construction, which contains funnel tubing, tube assist straps, a lockable assist lever, and improved chassis for excellent reliability. 
The broad, strong foundation works very well on a level surface, and the steel tubes are made to be light. The upper line has a length box for keeping some tools handy and is tilted slightly forward toward better pedal clearance when a bike is placed on the stand. As much as you can lift them far enough to reach the clamp, you must be able to lift many e-bikes high, as it has a stated bike load capacity of 80 pounds.
Specifications of this repair stand are:-
Weight: 6kg   

extended height: Up to 60in (152cm)

Max weight: 45kg 

Base dimensions: Triangular 92 x 92 x 115cm  

Folded dimensions: 116cm
Lastly, let's discuss the advantages of having a repair stand.
Advantages
reducing expenses
Most home bicycle repair stations are typically offered at fair prices. Once more, you'll be pleasantly surprised with how much money you'll save on simple bike repairs. Anyone with a self-driven interest can readily learn how to perform these simple repairs.
Stability
When fixing your bike, steadiness is essential. The stability of many handmade bike repair platforms is lacking. A broader base will typically make a stand more stable. Keeping your bike steady and still as you repair, it is essential.
portable and foldable weight
Most portable, lightweight work stands are made of aluminum and have long, bi- or tripod-like legs with rubber grippers on their foot to create a broad and secure surface.
Comfort and effectiveness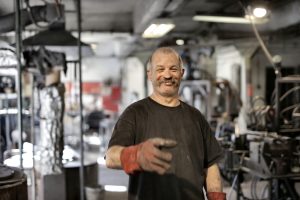 An excellent bicycle repair stand will help you save time and effort while reducing stress. Lifting, adjusting, holding, and fixing your bike all at once is exhausting. You can even turn out to be ineffective. There are portable repair stands for bicycles. This makes it possible for you to perform repairs without moving them.
Knowing how to ride a bike
By performing your bike repairs, you'll get the opportunity to learn how each component functions. As a result, you'll become a skilled bike technician.
In conclusion, there are a variety of situations in which a bike repair stand may or may not be required. Consider your present circumstances and long-term objectives to make your most excellent choice.
Good luck, and drive carefully!