An electrical moped is a more environmentally friendly, battery-powered vehicle that is a perfect fit for urban residents that want to travel shorter distances through the city. It's the ideal vehicle for you to achieve daily trips such as going to the nearest supermarket, Grocery store, gym, or nearest park. It is doubtful if an electrical moped needs a license and the answer is more complicated as each state has its licensing and registration requirements and laws for mopeds. The procedure differs across the various countries and regions in the world. Moreover, one can argue that the electrical moped does not need a license because it is an eco-friendly, sustainable, safe, traffic escaper and a light vehicle that is only beneficial for short trips. Let's clarify this doubt by exploring the matter among various regions and countries. Before investigating the license issue, let's first go through some important facts that a moped buyer should know and the pros and cons of purchasing a moped. 
What do you need to consider before purchasing an e-moped?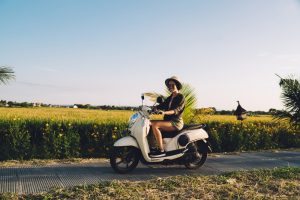 Commute Distance.  
Electric mopeds are ideal for short distances (10-20 Miles) commutes which is more efficient than driving a big four-wheeled vehicle through traffic.  
Outfitting.  
As e-mopeds travel faster, you must wear appropriate safety garments. The safety attire includes a standard helmet,  gloves, and not flip-flops but close-toed shoes. 
Maintenance and equipment. 
E-mopeds need routine maintenance; fundamentally, the battery replacement must be regular.  
Storage and security 
Lastly, you'll need to ensure enough storage space to park your E-moped safely when it's not in use. It is more appropriate to have a front brake disc lock, a chain lock, or a grip lock to keep your vehicle from thieves. In addition, it can be a good idea to have a waterproof moped cover to reduce damage from various weather conditions. 
 What are the pros and cons of purchasing an e-moped?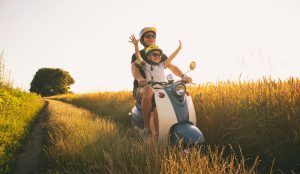 Easy commuting.  
Mopeds make commuting within the city relaxing, fun, easy, hassle-free, and traffic-free even during busy hours. Due to its small size, it is far more convenient to escape traffic. Additionally, many states in many countries have a separate lane for mopeds.  
More cargo space. 
Naturally, e-mopeds have a  seat compartment for storage. The seat compartment is especially beneficial for running errands, carrying groceries, or holding stocks.  
More cost-effective. 
 As electricity for the charging process is relatively inexpensive, E-mopeds are comparatively cheaper than cars and non-electrical vehicles.  
Less noise pollution. 
The electric motor in E-mopeds is entirely silent. It feels more accessible than riding. It also increases your focus on the situation.
How do mopeds affect safety sometimes?
The most significant danger is that other traffic may not notice the presence of a moped.
Here's why moped users who replaced their more extensive and expensive vehicles do not regret their decision.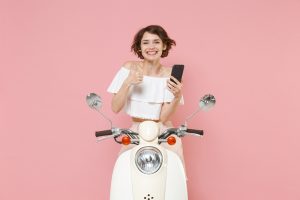 It can be one of the best decisions they have ever made, according to their experience. Here are some tips and tricks they have picked up since the time they replaced their big vehicle with a moped.
 "Using the feature of "avoid highways" feature on Google maps.
There are many roads other than the interstate, and they can often get you to your exact destination in about the same amount of time with better scenery. 
Navigating with a Bluetooth earbud.
Pair the earbud to your phone, turn Google maps audio navigation on, and it will navigate you through turn by turn. You don't constantly have to look down at your phone from time to time to see where you are. 
Bike lane to car lane 
In most states, mopeds can travel in both car and bike lanes. Roads with a bike lane can be a considerable advantage to the moped driver. When you see traffic or red light immediately, You can join the bike lane to avoid it. Changing lanes eliminate traffic and gives moped priority at every traffic light, and Changing lanes option results in happy-go-lucky commuting times. 
 Next, let's have a look at the license issue.  
Do I need a license to drive a moped?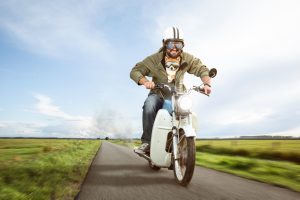 It isn't effortless to clarify the appropriate laws that apply to e-bikes and which do not. Classifying if your bike is an e-bike according to the definition of your country is problematic. Just because your bike needs electricity to work does not define it as an e-bike in every country around the globe; next, you need to figure out the type of moped you use and the maximum speed your moped can travel. Commonly, e-mopeds with a high speed that can run up to 45kmph need both a license and an insurance badge, and using a helmet for these bikes is mandatory. Therefore knowing the specifications of the bike you own is dominant. Let's go through the laws for mopeds in various countries and regions and clarify this point deeply. 
  In the US, e-mopeds do not require a motorcycle but a valid driver's license. In California, You must have a motorcycle license to drive a moped, be at least 16 years old or older, and wear a helmet while you ride. You don't provide insurance to register a moped, but you need special license plates and an identification card. The situation in the USA is also the same. You need a Motorcycle license for a moped in some USA states. You might have to pay a fine, and you may also have to spend a few months in prison or pay a tax penalty if you ride a moped without a license.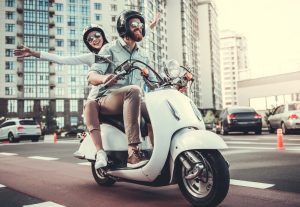 In New York, Some laws dictate where you are allowed to operate a moped as determined by the vehicle class. On the other hand, in many states, riders who are not 18 years old of age must have a permit to drive a moped. Mopeds do not get permission to use the sidewalks.
 In Berlin, German law identifies two types of mopeds. One of those categories is the small mopeds called Mofos, which do not need a license. Nevertheless, Everyone does not have permission to ride them unless the rider is above fifteen. Moreover, you need to sit for a written test, do a practical test and qualify before you get the permit to use it on the road. A helmet is mandatory, and the Speed limit is up to 25kmph. In Berlin, it requires a particular set of regulations such as being below 50cc, using weight lower than 30kg, and the front and back wheel width should be between 26cm and 28cm, respectively. The more extensive version of Mofa is called Mokick, which requires a license as a couple of people are permitted to ride a Mokick. Although Mokicks are 50cc, just like Mofos,  45kmph speed is applicable. Mofa requires an appropriate age limit of sixteen years to ride, a year more than that for a Mock. Also read: Are There Any E-Bikes Or Mopeds In Berlin That Don't Require A Motorcycle License?
The situation in Japan is significantly different regarding the use of e- mopeds. For a long time, e-mopeds have been banned in Japan because it was not easy to ride one on the streets of Tokyo. Strict regulations like needing a license plate, a valid driver's license, and paying taxes made it unattractive to purchase an e-moped. The law changed in April 2022 that it is not necessary to have a driver's license to ride an e-moped in Japan legally but still, you cannot ride an e-moped if you are under 16 years old.
Amsterdam also recently banned mopeds from bike paths within the city. The information found from an extensive traffic survey carried out by "Metrocount Netherlands" on percentages and speeds of light mopeds in 2018 enforced the complete ban a year later. Because e-moped laws are very confusing,  you must ensure that you meet the relevant requirements pointed out by your country when purchasing your e-moped. 
How do e-mopeds deal with the current world?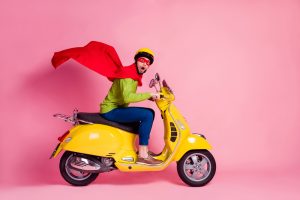 When considering the situation in Sri Lanka, more than ten people have died in fuel queues since the beginning of the crisis. The working class people suffer due to a shortage of fuel. Most lost their job, and the primary mode of transport became walking or using a foot cycle. Minding the advantages of using an e-moped, it can be the best option for the fuel crisis in Sri Lanka. As some of the mopeds have the option of paddling, it can also provide exercise to the body. E-mopeds cost a comparatively low budget than other vehicles and motorbikes. Mopeds can achieve a fuel economy of over 100mpg too. 
E-mopeds will be a reason to reduce the car use in future and E-mopeds will be the primary mode of transport in cities soon enough. E-mopeds will minimize the blockage on roads and help cities achieve their environmental and road safety targets, but the dissenting voices protest they are irritating and menacing; they also argue that E-mopeds narrow their footpaths and risk pedestrians, and cause accidents and injuries. However, These E-mopeds could be a massive advantage for our cities as these modes of transport can be pretty effective between home and the nearest railway station also in another way, they can also be troublesome in case they would bring down the number of short trips taken by personal vehicles.