I am pleased to write a review on a KALK bike. I bought it a few months back. I searched a lot of information before buying this bike. Therefore, I wanted to write a review to share my experience with this bike for you to make your life easy. You may have watched many videos and product reviews on this bike with demo rides. But I am writing as a person who bought the original bike and experience it for the last three months.
I have discussed critical ideas throughout this article with all pros and cons of buying this bike.
What is a KALK e-bike?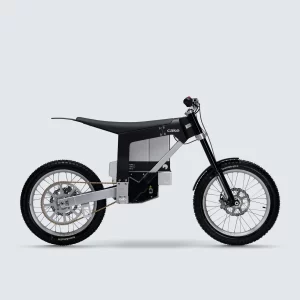 KALK is a name that refers to limestone made of coral reefs. It creates in the tropical and deep sea. It takes millions of years for the formation of these stones. The name connects with the features that discuss one by one in my review. You will realize how much it can relate to the meaning of the name.
The founder of this original brand CAKE is POC Company. The company is well known as a safety gear manufacturer in the EU. CAKE manufactures different ranges of electric motorcycles for both commute and off-road purposes.
The main office is in downtown Stockholm but Hallshuk, a little fishing community on the northern tip of the idyllic Baltic Sea island of Gotland, is where its heart and soul reside.
Stefan Ytter was born as the founder and CEO. He has a summer residence there and travels there with his co-founding sons Karl and Nils to hike trails, surf modest Baltic swells, fish, and waterways. 
The E-bike range is the second range bike range introduced by CAKE. The company has designed a combination of features of both mountain and dirt bikes. 
The Kalk is an electric dirt bike that is only focused on performance. Its appearance is not much impressive. The essential components are available with good quality. It is a 150-pound bike, 30 pound-feet of torque is a lot, and it is delivered instantly, at any speed, with a simple throttle.
An overview of the features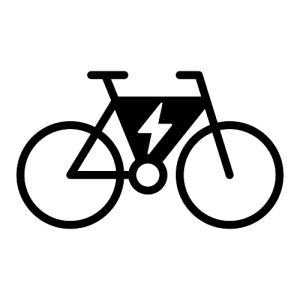 The company has developed this range of bikes as an exclusive manufacturer. It is an innovative output merged with traditional design. 
I have listed some key features of the KALK E-bike below.
Appearance
The bike has a simple dashboard with LEDs for the battery and temperature. In addition, it incorporates adjustable knobs for regenerative brake levels and riding modes. The bike has a mechanical feel as a result of this.
This E-bike manufactures newly constructed components such as light, powerful and robust are designed to maximize performance for an electric motorbike.
The appearance of the frame of the bike is not much attractive. It does not cover the internal components of the bike including the controller, motor, and battery. We do not advise using this electric dirt bike on muddy, rainy tracks as it lacks a rear fender.
However, the E-bike motor comes as a fully covered or sealed resistant to water, dirt, and dust.
Frame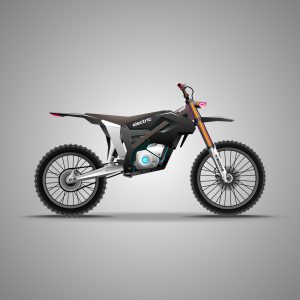 Most of the components of the bike especially the frame comprised of aluminum and carbon fiber. This kind of frame is strong and flexible enough to handle pressure and abrupt shocks caused by rigorous use. The aluminum frame is easy to handle and has strong mechanical qualities that make it easy to weld and fix.
Further, it comes with absolute cuts and designs no ordinary parts. Therefore all engineered parts guarantee solid and flexible output. 
New components are manufactured using quality material to comply with industry standards to maximize the performance of the bike.
Transmission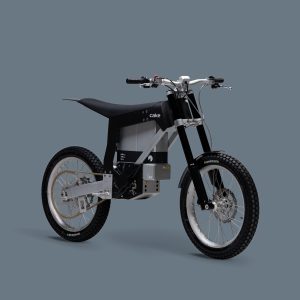 The company has developed this as a 1-speed automated chain drive. 
The sprockets are placed in this manner to maximize climbing capacity. It assists the bike in producing a maximum torque of 206.5 ft-lb (280 Nm) at the wheel and 31 ft-lb (42 Nm) on the shaft at 3000 rpm.
This ensures a maximum speed of 56 mph and 73 horsepower to enjoy your off-road ride.
Additionally, the bike has three riding modes that provide the user with a selection of rides. This offers a riding period of a maximum of 3 hours. However, restricts speed to 28 miles per hour which provides an hour of maximum power.
When the throttle is released, this enables to achieve freewheeling with a four-stroke dirt bike experience.
Your feet do nothing other than rest just on foot supports. You can simply swap those out to create a lever system similar to a bicycle.
Motor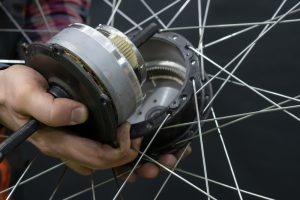 A vigorously designed E-bike with an exclusive method for power has been combined with adjustable performance features. The motor has an engine braking mechanism with a capacity of 11000W. The engine pressure to the wheels while the throttle is not engaged, engine braking significantly aids the rider in controlling the bike's speed.
Together with the front and rear brakes, it also helps the bike's reformative braking system. This contributes to longer battery life and offers regeneration battery charging.
Therefore, electric motorbike manufacturers are allowed to arrange large batteries and engines in any way they choose.
Quality of the Batteries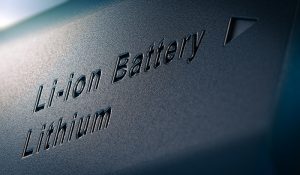 A Li-ion battery pack with 51.8 volts and 2.6-kilowatt hours powers the E-bike. Therefore, the rider can run for up to 3 hours on ordinary power and a maximum of 1 hour on high power.
This electric bicycle has a built-in charger with a 2.5-hour charging period. On the market, electric bikes don't often include this feature. It has a marvelous charge duration for a high-power and high-capacity bike because most bikes of this type would require 5 to 9 hours to charge.
Additionally, it enables parking and charging at any outlet without requiring you to remove your battery or bring an additional charger.
The 2.6 kWh battery pack is rechargeable in 90 minutes using a solar charger.
Break system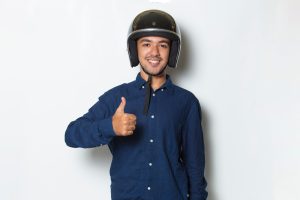 The Brake system is a critically important component of the high-performance bike. This bike has four-piston, motorcycle-grade brakes up front and back and is operates by a handlebar.
Although both brakes work well, the rear brake is more powerful. This is great since it reduces front flips during severe braking and takes use of the bike's lightweight.
Good Suspension mechanism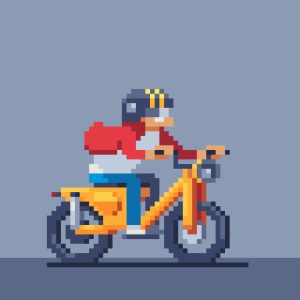 "Ohlins" TTX22 shock absorber is the suspension model available with the E-bike. It also comes with an 8″ inverted air/oil front fork. These shocks make the rider capable of the intense pressures caused by heavy use.
The shock absorbers have a complete triangle of adjustment options such as High and low-speed compression, and low-speed rebound and regulate the front shocks.
This type of dual-purpose motorcycle differs in terms of its suspension travel. This e-bike offers 205 millimeters of suspension and travels with a 65-degree head angle. The bike also has high- and low-speed compression damping controls that are adjustable for mount rides and low turns. The "Ohlins" suspension is the best item available with the bike.
I could sustain my pace on the mountain ride without shifting, and the suspension took the easy landings. The bike's peak speed of 50 mph is more than adequate for navigating narrow trails and tracks like this one.
Wheels & Tires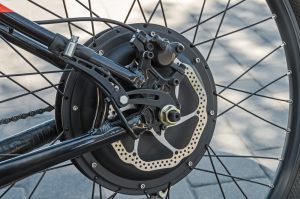 18 inches wheels and Continental TKC 80 tires are more suitable for off-road rides. Those are specially designed to ride on muddy and uneven roads.
This electric bike has triple chambered, 24-inch/50 mm 6061 aluminum wheels with specifically made tires. The weight has increased due to these extra components like stronger triple chamber rims. 
The rubber compound and tread design of the tires are available to minimize rolling resistance and strong traction without damaging trails.
Pros
The inbuilt charger is the unique feature available with this model which ensures easy charging and travel.

A regenerative braking system is another innovative feature that works with both front and rare bikes.

If you are a rider who seeks adventure rides off-road and getting into dirt. Then, the ideal bike for you is the KLKA. It offers you such a remarkable and fascinating experience off-road riding.

It comes with two main poaching-fighting innovations. Since it is an electric-powered bike, it allows very little pouching.

The shape of the bikes is in three modes such as explorer, exciter, and excel. It acts as an explorer for long rides with considerably lesser battery power example 45 km/h with 3-4 hours of battery power. Active trail riding for 1-2 hours and race mode with maximum speed and rotation are other impressive features that a rider can experience with the ultimate KLKA bike.

These e-bikes ensure a good ride with less use of gear. The gear system comes with a 12-tooth countershaft sprocket driving an 80-tooth rear sprocket.

The appearance of the bike is so impressive. Trifilon is the material used for plastic spare parts. Therefore those parts are recyclable. Similarly, bio composite fibre is bio-degradable too. It is an interesting point that shows that the product is eco-friendly and disposes less waste to the environment.

The ultimate KLK is weight only 176 pounds. Once you fully charge the battery before a ride, it will last for 3 hours. It is a super conservation solution with excitement.

The other important thing is the navigation facility and location identification. You can explore any area which you have not travelled to before.

Even at the lowest throttle level, the performance of the bike will be too much for a beginner to handle. Compared to, a scooter or 125cc beginner motorbike, it accelerates far more quickly.
Safety methods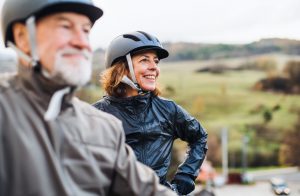 The e-bike comes with a headlight of A 2100 Lumen, ensuring strong lighting in the dark. These motorcycles are absent a brush guard which is commonly available with a dirt bike. However, it is a difficult ride in shady areas without that shield. The rider has to care about hand protection depending on the types of trails you ride and how quickly you want to traverse them.
Cons
The appearance of the E-bike is not attractive. It exposes all the internal parts.

The electric engine has a noisy sound like a cordless drill on steroids.

The trail-based range is only 50 miles for 3 hours.

No legal authority to ride yet.

Relatively expensive compared to other E-bike models in the same range.

The headlight is not powerful enough.
Is it worth buying KLKA?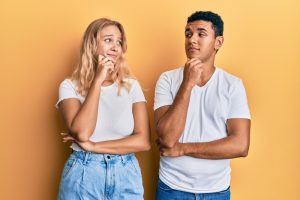 It is a common question that I am answering to my friends. What was it cost to buy this E-bike?
However, it's difficult to decide for someone without prior motorcycle expertise to purchase this e-bike at this amount. The main benefit of electric power is induction systems, gearboxes of internal combustion, and engines. Its parts are not readily available.
The amount is a slug of money. However, The developer of Sweden's premium brand of cycling promises safe, entertaining, quiet, open, and cleanness. The riding experience on the KALK is not difficult, or complicated. It calls a decent ride with good quality. This bike also with a lot of fun and predictability.
However, will provide you with an entirely different riding experience if you are already used to riding a motorbike. Even the narrowest and trickiest paths become considerably more doable thanks to it. When you are out riding, you have the chance to see animals. You may explore the forest on it without disturbing anything.
How did I place the order and order processing time?
The company's official website is the best spot to place an order for this e-bike. Additionally, Aether Apparel, Deus Ex Machina, Stealth Tahoe, and Evolution bikes are just a few North American distributors.
The company has several branches in USA and EU countries. 
Since they have good customer care, they respond to complaints and inquiries quickly. It will ensure you with an entirely different riding experience. Even the narrowest and trickiest paths become considerably more thanks to it. When you are out riding, you have the chance to see animals. Then, you may explore the forest on it without disturbing anything.
Conclusion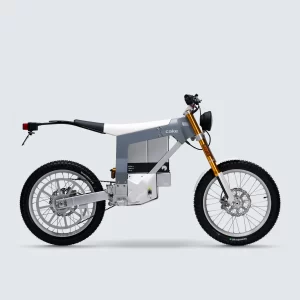 The Calk will alter your opinion on motorbikes if that seems like fun if you want to use fewer fossil fuels and don't want to pass by in full view of everyone within a mile. 
It offers an experience for both types of riders who seek mountain and dirt rides. People who want either a hard ride or a commuting rider can enjoy this. 
The straightforward controls emphasize this simplicity of usage. The Kalk solely has hand controls, with the twist throttle and front brake on the right and the rear brake and clutch on the left, respectively. Your feet do nothing except rest on the foot pegs. You can simply swap those out to create a lever system similar to a bicycle.
I have discussed all the unique features of the bike in detail. Since I have the riding experience of the e-bike, I feel the e-bike is a specialized offer of this E-bike range which the business wanted to address a niche in the market with these unique and quality features. If you try it once, you will alter your negative opinion on this. If the environment is your concern, this would be ideal because of no fossil consumption with the hard ride.