Everything you need to know about the bike and its battery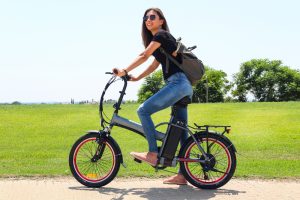 E-bikes are very convenient and massively advantageous to riders. It's not a surprise that they are famous around the world. It is costly when to replace the parts of the bike. So if you want your money saved, you might as well take care of your electric bike, especially the battery. When charging a battery of an e-bike, you must be very careful, and it isn't a straightforward task. You must consider many things when using an e-bike and charge it.
How Electric Bikes Work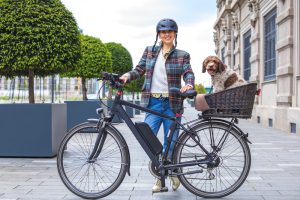 Electric bikes are not so different from regular bikes. They have the same qualities but with an additional motor to give extra help to their riders. The e-bikes benefit most people because they assist the riders when climbing hills, long distances, and in windy conditions. The e-bikes come along with a motor, drivetrain, and battery.
The motor is the foundation of an e-bike. The making and breaking of the bike depending on the engine. You can find a motor in these three spots mentioned below.
Front hub – The location of the front hub is on the front tire. It moves by rotating the tire. The front hub motor makes the bike feel dragged to the front.

Rear hub – The location of the rear hub motor is on the back of the tire. It also moves by revolving the tire. The back motor creates a feeling that the bike is being thrust. It gives a more natural sensation than a front hub motor.

Mid-drive – They send energy to the drivetrain of the bikes instead of the hub. Usually, the location of a mid-drive is at the center. That gives the natural feeling to the rider much more than the front hub or rear hub motor.
The drivetrain of an e-bike contributes the energy needed for the bike to turn its wheels. So the mid-drive motor redirects the power to the drivetrain making the chain crank effortlessly. So an e-bike is nothing without its drivetrain.
The battery capacity depends on the rider's riding style. Usually, you can ride for 20 to 60 miles with a standard battery. The three different styles of the riders are as follows,
Pedal only – This is the style of the regular bike. The bike will move only if you pedal, so the energy comes from the rider.

Pedal-assist – This helps the rider in pedalling. When the rider starts pedalling, the motor activates and moves the bike forward without much effort. This style enables the riders to work without much physical exhaustion. It made the ride easier.

Electric-only – This is the most effortless ride a person can have. You only have to twist the throttle, and your bike starts moving here and there as you want it to. This style doesn't need any additional assistance. But the only issue is that it drains the battery rapidly.
How to charge your eBike?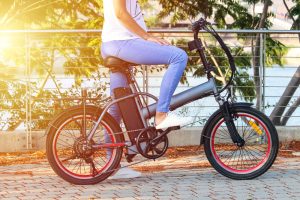 To give out the power, you should charge your e-bike properly. You can do this by plugging your bike into an outlet. It is simple as that. The lifespan and the charging time of the battery depend on the quality of the battery.
High-quality batteries- usually take 2 to 4 hours to charge; the lifespan is about 700 to 1000 charges before you have to replace the battery.

Low-quality batteries- typically take 6 to 8 hours to charge, and the lifespan is about 300 to 700 before you replace a new one.
Usually, an adequately charged bike can travel around 20 to 40 miles. But some bicycles that have quality batteries can ride about 6o miles. If you have more load on your bikes, you want more energy from the battery. So the battery will drain quickly if you put more weight on the bike.
Everything you need to know about a 250w Electric Bike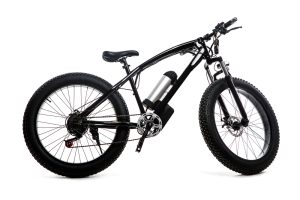 The 250W e-bike travels 15miles an hour at the top speed. This is more suitable for lighter weight people. You should go for a high-powered motor if you are a heavy person. If you're 100lbs, the 250W motorbike is suitable for you, but if youre220lbs you should at least need a 500W motorbike because the energy drains according to the weight. So if you want to travel longer but are a heavy rider, you must go for a bike with higher watts so that you will be able to ride without draining your battery rapidly.  It depends on how much you weigh if a person wants to go faster on a 500W motorbike. Because the battery needs extra energy to ride speedily and also carry your eight, you either slow down or you won't be able to travel longer. There's a huge power difference between the 250W and 500W.
250W electric sport bike, known as 'the regulator', is a very smooth bike.
The sleek design offers a brushless motor (36v 225w) and a removable lithium battery (11ah). The pedal assist of this bike is waterproof. THE battery weight of the regulator is 20kilograms. So that means it is very floaty and light. The highest speed of this bike is 32km per hour. By using one charge, you can travel up to 60 or 100 kilometers. Usually, it takes about 4 hours to charge fully. The manufacturing companies use Aluminum ahoy to make the body of the bike. This sports bike has tires that are 27″, which helps you to go to the countryside. The climbing capacity of this bike is about 12 degrees, so this bike will help you climb any hill effortlessly. The maximum weight you can put on this bike is 120kg. So typically, people between 5′ and 6'8 ft can ride this bike. 
Choosing a Bike for a Heavy Rider
Sadly, most models of electric bikes available on the market are only for lightweight people under 225lbs. So the heavy riders can be a little heartbroken by this. Because they might think that they wont to be able to get the effortless workout they would love to have. But it is not a big deal. 
The rider should consider a few things before buying an e-bike. Especially the heavily weighted riders, sometimes the weight limits are not displayed on several bikes. So you might have to go to customer support or check the reviews to discover the weight limit of a specific cycle. If you're going to purchase an e-bike, there are some facts you need to consider before making the purchase. So if you're going for a bike with a heavy weight capacity, you might need to take a look at the following details,
Facts that need to be considered when purchasing an ebike.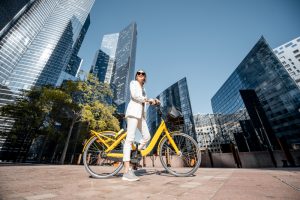 Bike frames -The frame is the key element of a bike. So it is essential to look into it before buying When you're going for a bike that can deal with a heavy load, the best option is to go for a metal frame rather than a carbon frame bike. In particular, Steel and Aluminum are durable, less weighted and cheap in price.

Bike wheels – The bike's wheels are also something you should look over before buying, as you need to consider how strong the wheels are. For a heavy weightier rider, there should be at least a 26″ wheel than a 29″. Because the smaller the wheel is, the stronger it is. So it will be able to hold up heavy loads.

Bike style – Some bike styles are suitable for heavily weighted riders. Usually, the road bikes need to be more bend over so that they won't be much comfortable for heavy riders with large bodies. But in mountain and hybrid bikes, the sitting is straighter than in others. So the best option for a severe rider is going for one of these as it will fit your large body perfectly.

The number of spokes – The number of spokes is also one of the things you should consider before buying an e-bike. The rear tire should hold more than 24 spokes. Typically 32 or 36 will helps you more, making your tire stronger. So the tire won't get bent under due to heavy load. So this is an important fact you should look up to before purchasing.
Best e-bikes for heavy riders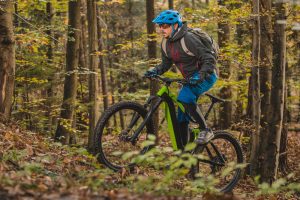 Most bikes can only withstand up to 250 pounds, which is 115 kilograms. Overall, it covers the necessities of an average-weighted rider. But some people lightweight more than 250pounds, so the bike companies have come up with new bikes that can withstand a weight of 550pounds which is 250 kilograms. So people with special weight requirements can enjoy their bike ride, which also can be an exercise to reduce their weight. So bike companies have developed specially designed bikes that endure extra weight necessities. Some of them are as follows,
Heavy-duty mountain e-bike

The electric city bike for extra load

Commuter e-bike

Electric tricycle

Special design e-bikes
Electric Bike Weight Limits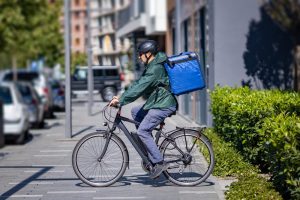 There are so many types of bikes that differ from each other. So they all have varied weight limits. So it nice if you looked up to the manufacturer's suggestions because you must be aware of your safety and the performance of the bike. There are so many bikes that are popular among people, so you might want to know their weight limits of them. Some examples are,
SwagTron Bandit – 250pounds

Volt Pulse – 220 pounds

DJ City Bike – 220pounds

Raleigh Redux IE – 250-pounds

SwagTron Bandit- 250 pounds

Haibike SDURO – 250-pounds

Trek Super Commuter- 300-pounds

Addmotor MOTAN – 350 pounds

Addmotor Motan Trike – 450-pounds

Supersize Cycles
Supersize Cycles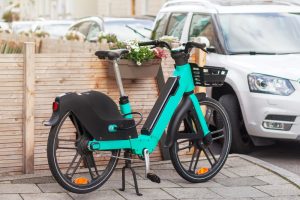 This company wants to give big and tall riders a chance to enjoy the experience of electric bikes. Size is the first ever bike capable of enduring weight up to 550 pounds. There is a collection of size bikes. Size bikes are the best bikes for heavier riders. These are a few examples of their suitability for heavily weighted people.
Strong frames – These bikes use chrome tubing to provide a strong foundation for the cycle. It is also very flexible and feathery.

Strong brakes –The brakes contain the latest advanced disc brake rather than a rim brake. So it provides the rider to perform a strong braking style.

Stable seats – The seats used by Size are huge and padded widely. It has clamps inside that prevent it from wiggling happens to the heavy load.

Sturdy wheels – The wheels have these tires specially designed to withstand heavy weight and create an easy ride. The tires are wide and have 15 gauge spokes. They use stainless steel to make the tires.
 The benefits of using e-bikes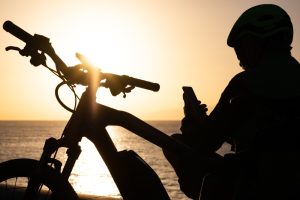 You will be able to ride further
The pedal assist system in your e-bike helps you to ride for extended distances without getting exhausted. It limits the physical effort you have to apply when riding a standard bike.
You will be able to personalize your riding experience.
The pedal assist system is optional and personalized to your liking. So you can choose to balance between using your physical effort, or you can just have a relaxing journey. If you want to be somewhere within a limited time but are too fed up to pedal, the pedal-assist system would greatly help save your time and energy.
More people will tend to ride bikes.
The pedal assist system is very beneficial for people with less physical power. For example, older people and people who have several injuries. It will help those in need to have a relaxing journey and be able to ride a bike and enjoy the trip without any physical effort. And it is for people who live in hill countries because there are more mountains that you will face to ride, but you will be able to do it without any energy.
They are faster than other transportation modes.
It is much faster than different modes and will help you reach your destination without exhausting yourself. The courier services are on board with the installation of the bikes as it is much faster.