Electric bikes are fun and comfy. It increases the possibility of riding further. With electronic gadgets attached, it paves the way for a new experience. They have the same design as traditional bikes with quality materials. It is costly, and so are its parts. 
When comparing electric bikes with traditional bikes, electric bikes are convenient with pedal assist and throttle. They are a better physical trainer than traditional bikes. With pedal-assist or throttle, you can climb steep paths with less effort. Electric bikes get their power from rechargeable batteries. New electric bike models have many cool features. 
If you plan to purchase a new model with extra features that attract you and wonder what to do with the one you are riding. Or, if you already have plans to sell it and are wondering how to do it and where to sell it, do not worry. Follow the following steps to learn how to sell your used electric bike.
How to sell your used electric bike?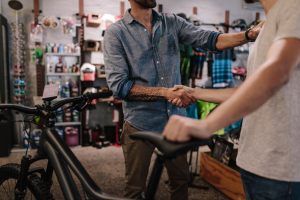 Some people want to experience the ride on an electric bike but cannot afford it; they would be glad to get a used bike for an affordable price. By following these steps, you can sell your electric bike.
Estimate your electric bike's value –
Estimating your electric bike is really important. Check in the sites how much they are selling your bike model. It can help you decide the value of your bike. 
Surely, you would not be able to sell for the same price you bought. Check the same brand new model of your electric bike's price. There are chances the price would have hiked up or is low. Your price should be lower than the price of the new model, as no one will pay you a higher price for your used electric bike when they can purchase a brand new one with less money. 
Some sites help you estimate the price of your used electric bikes by comprising all the details. There are chances for you to have a profit or a loss after the depreciation.
You can add or deduct a few dollars from your estimation and fix the price. Add about fifty to a hundred dollars and upload this amount as your proof on the site. When you are negotiating, you can sell it for the estimated amount.
It would help if you serviced your electric bike now and then to avoid damaging your bike more. If you do not repair the small fissures, they will become big, damage your electric bike more, and cost you more. Therefore, fix any cracks or damages in your electric bike as soon as you find any cracks or damages. 
When you plan to sell, you must ensure your electric bike is in good condition and will not fall apart in days. Therefore, take your electric bike to a technician and do a thorough check-up on your bike. And do all the fixings that the bike needs. By fixing it, you can guarantee that however rash the buyer rides, it will not fall apart in a few days. 
You can charge a little more when you replace any worn-out part and include it in the advertisement. 
Not everything needs to be perfect, as they know it is a used bike, and changing it into a new bike to sell at half price is not worth it. Repair and replace only that does not cost you more. You do not have to get a new battery if the old one is too worn or the life span is by the end. Mention it. But you can change the grips on handlebars, front or rear lights, etc. 
If possible, try to paint your electric bike; if the bike is presentable, you will be able to sell it soon. And make sure to include it in the advertisement.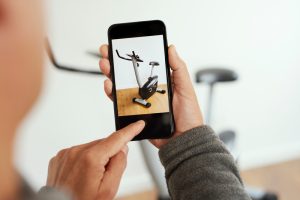 Photos describe more than words can define. Therefore take clear and nice pictures of your electric bike. Give importance to the lighting and the settings, as a good photo is the main thing to consider when selling. It should attract the buyer. 
Try taking pictures of each part in focus; it will be needed when the buyer asks for it. It can save you time, as you will have to take pictures whenever a buyer asks about and requests for that picture. Spend time and take good-quality pictures. Because it is what will get you, buyers, if you do not upload good pictures of your electric bike, the buyers will pass your advertisement on the site. It is the picture that attracts the buyer and makes them want your electric bike.
Upload the best pictures and the important parts like batteries, motors, tires, and anything you replaced.
If there are any damages you need your buyer to be aware of, take pictures of them, too, and you can provide them when discussing them with the buyer.
Many sites on the internet would let you sell your electric bikes. Try uploading your advertisement on many websites and apps as possible if you want it to sell in no time. Upload the best pictures of your bikes and describe your bike in the best words you can. Also, include the details and the standards of your electric bike. Like how many years you are using it, battery cycle, time taking to charge, any wearing tearing, if you happen to change any parts, include it, and if you added any parts to the bike, include it too.
Write the amount you will sell your used electric bike and whether it is negotiable or fixed. 
Most importantly, the websites or apps you use should be available in your areas and include which area sellers can buy them if you limit the buyers' whereabouts. 
Posting on some websites or apps will cost a little, depending on the site's popularity. Some charge you a percentage from the sale, so include these costs (probably minimal).
Include your contact details in your advertisement. Mention how the buyers can contact you, and write your contact number or email. Many wish to buy, and you will get many calls asking for more details and describing it to the buyer. You will not be selling it on the first call, though you can be lucky if you do sell on the first call. You will be bombarded with calls and answer their questions.
Also include the place you live. It will help buyers outside the state or too far to come to get a look at it, and it will not bother you. 
People near your area will want to see the bike for themselves and visit you or ask for a meetup. It can be a better way to meet in person to make the decision. 
You can expect the buyers to buy your electric bike for the amount you have fixed it. Sometimes, people want to negotiate and buy it for a lower price. Therefore, you better add up a few dollars when mentioning the price. 
Most websites and apps allow you to make payments on the website or the app itself. If so, you won't be able to reduce the price. 
Remember, advertising on the internet might charge you for your sales. Therefore, make sure you include that cost too.
People will want to know the status of your electric bike as it has been in use, so a test ride could help them make a decision. After the buyer has got all the information and details needed about the electric bike, you can arrange for a meetup. The buyer can see the bike for himself, and if he wants the bike, he will reservoir a test ride. 
One ride can say many things even photos cannot say. Only by riding will the buyer will be able to know the bike's condition. 
If your buyer did not meet up for a test ride and discussion and wants to deal with everything online, you can send the bike after receiving the payment. Or if that person is nearby, you can ride it there and settle it in person.  
You can choose bank transfers or any other online payment. Some selling websites and apps let you finish the deal on the website or the app itself, paying a percentage for the deal to the website or the app.
Remember not to ship your electric bike without receiving any payments before you reach the buyer to get your payment. The bike will be long gone. Better yet, sell it to a nearby person after the meetup, avoiding all the future troubles you might face. 
   Selling and buying used electric bikes have increased due to the high price of brand-new ones. By knowing how to market your electric bike, you will be able to sell it in no time. There are many websites and apps you can choose from to sell your electric bike. The more advertisement you post, the sooner your electric bike will change its ownership.
Where to market your used electric bike?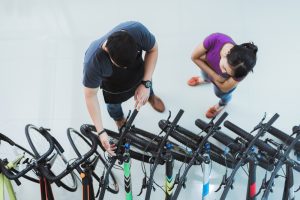 Many websites and apps allow you to sell your things directly. It can be something you made, bought in bulk, or used. These websites and apps will charge you to advertise and a percentage from the sale. Not only online but you can also sell them offline. We will see the websites, apps, and offline places to sell your used electric bike: 
As we all know, eBay is one of the biggest markets for selling used goods, like motor vehicles, bikes, furniture, etc. It is available all around the world.
You have the option to choose between the around the world or selling only to the local. If you wish to sell to local people, it is better as you do not have to deal with transporting the bike. And you can ask the buyer to visit you or plan a meetup in a place convenient for both of you and get the deal done. You can also request the buyer to deposit to finalize the deal before you sell it online.
You can sell it at a fixed price, invite the buyers to make an offer, or sell it through an auction. By selecting the auction, you can set a price you are ready to sell, and the buyers will bid, and by the end of the bidding time that you fix, you can sell it to the highest bidder.
Facebook pages and groups
You might have Facebook groups and pages that cater to electric bikes based in your region. You can post your advertisement to sell your electric bike in them. It might be an easy way to sell as you could contact through and arrange a meetup and then sell. 
There are forums and other social media app groups where you can post your advertisement.
When you sell using social media apps, please do not take the risk of shipping it without payment. Better yet, arrange a meetup, and discuss and deal. 
We are all familiar with Facebook and Craigslist marketplaces. And there are more marketplaces where you can advertise your used electric bike to sell. 
But these marketplaces are full of fake buyers. They would waste your time for more details and information on your bike and not buy it. 
Selling in these places is risky; do not try to ship your electric bike without receiving the payment. 
But some forums and apps let you sell using their app, which is genuine.
You can check with electric bike dealers in your area and ask them if they are purchasing used electric bikes. And if they do, you have an easy way out. If your electric bike is still new, you will have an easy way to sell it. Even if the dealer is not dealing with used electric bikes, they might help you sell. 
Most electric bike dealers don't deal with used electric bikes, but you can try them as it is an easy way out.
You can try the local pawn shop if electric bike dealers do not help you sell. You might be lucky if they buy your electric bike. 
You can try to sell your electric bike to your friends or family. Check with them if anyone wants your electric bike and make a deal. You can post the pictures on your social media and tell them that you are selling. Even if they are not going to buy, their friends and family might be interested. 
Conclusion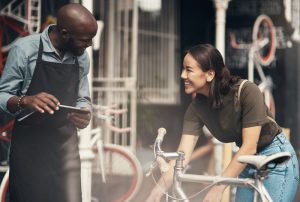 Electric bikes are an easy and convenient way to commute. As the demand rises, new electric bikes have more features and gadgets. With it, the cost to has risen. Therefore, the demand for used electric bikes is also high. 
If you plan to sell your electric bike, you can do so by following easy steps. You can tidy it up by giving it a full service and estimating its value online. You can post on websites and apps that would help you sell your electric bike. Take clear and nice pictures of your electric bike and parts by focusing on each one. It might come in handy when buyers ask for them. Finally, when the buyer comes to buy the bike or you two meet up to discuss it, you can offer a test ride. Therefore, the buyer might know the bike's conditions and function before buying. Hence, it would help you avoid many problems that you might face.
Never ship your electric bike without receiving the payment. There are many methods you can use to advertise your electric bike in. You used online apps and websites like eBay, forums, and social media. And also, you can try selling it through local electric bike dealers.