Introduction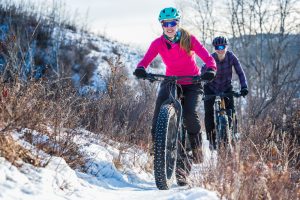 Electric bikes changed the trends in bicycles when reintroduced to the market in the late 20th century. With its prototype looking like a traditional bicycle with new features included, electric bikes are known worldwide. With pedal assist, throttle, motor, battery, monitor display, LED lights, and electric brakes, as new features comprised in electric bikes, it stands out from the traditional bicycles.
    Electric bikes save so much space and the money you spend on gas. Even when traveling on the roads, you don't have to worry about the traffic that might make you late for your commute. Electric bikes are a better choice when compared to traditional bikes and other automobiles. There are various electric bikes in the market with varying designs and features. With a proper understanding of each feature and weighing the pros and cons of each bike, buy the one that best suits you. 
   When you purchase an electric bike, you should consider the path you will be traveling. It is essential to weigh this, as you need the right tire for the terrain. If you are traveling in rough terrain, you will need tires that do not tear off or come undone. You should choose an electric bike with a good tire that would let you have a comfortable ride without any problems.
   Winter can be rough in many areas. Driving or riding can be extremely dangerous. In places such as, you should avoid going out at all times. But if your area is good for riding and it can still be dangerous if you are taking out vehicles that are not winter-proof. Therefore, change your tires, if that is possible, before taking your vehicle out. Electric bikes have special fat tires fixed on them for a safer and more comfortable ride on winter days. We will now see the best electric bikes with a fat tire; by looking through the pros and cons of each bike, you will be able to choose the better one.
Fat tire electric bikes for snow.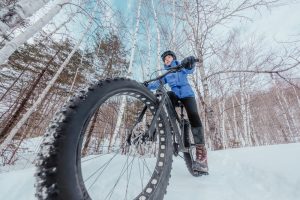 Snow can be deep or shallow depending on the place and time of the year. It can greatly affect going out on the road. If you are living in a place where the snow is deep, we recommend you stay home. It can be dangerous outside if the ice is too slippery. 
   Ice and snow can be slippery and greatly affect your riding. If you plan on going out for the ride, remember to take all the precautions. Wear a thick jacket with a full-cover helmet, gloves, and shoes to keep you warm and protect you from blizzards. Give extra importance to the speed of the electric bike and only ride with minimum speed. Take out the path you are familiar with, and still control the speed.
   If you know a snowstorm or blizzard is coming, you better stay home. Only go out when the storm has dulled and snowfall is not too deep. 
   An electric bike is an easy and friendly commute. One might want to get into it in winter to help him in his daily routine. As hundreds of electric bike models are on the market, not all are winter friendly. It is up to you to get the one suiting you and the weather best. Mostly, electric bikes tire are changeable, and you could just change your normal tire into a fat tire. The fat tires on electric bikes are winter friendly and less slippery. 
   Fat tires add traction to the electric bike. It helps your electric bike to cling to the road and trail. On winter days, it can help you with fast stops. As we know, it is hard to stop on slippery roads, and with the fat tire, a better stopping in an emergency is attained.
   Following are the best fat tire electric bikes available on the market that are suitable to ride on snow. By weighing the pros and cons of each fat tire electric bike, choose the one best suiting you;
Aventon Adventure 
Aventon adventure has a 750W rear hub motor that accesses power from 720Wh fully integrated battery. It also has a few small features induced in it that you would not see in other fat tire bikes. 
Though Aventon adventure is slightly heavy, it gives a smooth tide with its sporty handlebars. LCD, metal fenders, and hydraulic brakes are plus points in the bike. These bikes come in step-over and step-through frames so that you can choose the most comfortable one among the available colors.
Aventon Adventure is released as a class 2 electric bike, but you also can unlock its speed limit. With speed unlocked, you can pedal up to 28 mph with pedal assistance and enjoy.
The price is also affordable; for $2000, it is a smooth, fat-tired bike.
Pros;
It can unlock to enhance the speed of the bike.
Unique style for a fat-tired electric bike that looks stylish.
The battery is on the larger end.
Little battery usage on the LCD.
Cons;
The weight of this fat, tired electric bike is slightly higher than its rivals.
RadRover 6 Plus
RadRover bikes have a part in popularising the fat tires on electric bikes. Their bikes are known for their many features and abilities with each new release. Without exception, RadRover 6 Plus, too, has its upgrades.
Compared to the previous models, RadRover 6 Plus is more sustainable, with less tear and wear. The battery is half-induced in a more stylish and angular frame. A unique dual display is added to the feature, which is different from other models.
The hydraulic disc brake with 180mm rotors aids the bike to a faster stop by providing the rider with more control over the bike. 
Electric bikes are known for their speed and their torque. But when new riders try them, they find it hard to get a hold of the bike's speed. But with RadRover 6 Plus, even the newbies can get their hold on it because it supports the low-speed torque too. They have a 750W rear hub motor that you will be found in many fat tire electric bikes. But what's unique about this electric bike is its power delivery, even at low speeds. 
For a newbie or a seasoned rider, RadRover is a good choice. Riding on winter days can be harmful, but with a low-speed torque, you can have more control over your bike.
Pros;
750W rear hub motor that delivers power smoothly.

672Wh battery delivers exemplary range for its size.

The hydraulic brake supports the fast stop and gives more control to the rider.

Stylish and trendy look, all for an affordable price.
Cons;
Cable arrangements look messy.

The LCD on the left is less bright than the center one.
QuietKat Jeep
All-terrain bikes are becoming more popular among the crowds, and everyone has started loving them as they can be used on all roads. Manufacturers are using fat tires and full-suspension forks to be able to ride bikes in all weather and roads. 
QuietKat Jeep is one of the best successful all-terrain electric bikes that provide smooth rides on roads while also letting you explore wilder areas. 
750W or 1000W mid-drive motors, 4-piston hydraulic disc brakes, 9-speed group-set, and 150mm GT MRK inverted fork are all integrated to create the successful all-terrain electric bike. 
Snow can be rough and hard in some places, and the Jeep can comfortably ride through them. 
Pros;
The 1000W mid-drive motor has greater power to supply great speed and control over the bike. 
The inverted fork is a plus on the bike.
4-piston hydraulic disc brakes are powerful, and it is a good choice. To have control over your bike in a rough snowy place, it will be a better choice. 
Just like QuietKat electric bikes, Jeep is also an all-rounder.
Cons;
For the 1000W mid-drive motor, the 696Wh battery is too small as it does not provide a higher range. If you buy this electric bike, purchase a spare battery.
The speed is too high; on winter days, a higher speed is of no use and can be dangerous if not for speed shifters.
RadMini 4
Most electric bikes with fat tires are assembled with bigger people in mind. But RadMini 4 broke the trend and developed this design for people of smaller sizes. It is accessible for people 4'10". This bike is designed with a step-through frame. The standard bike is accessible for people 6'2".
With this release, even people with smaller heights can enjoy the fat tire bikes with other crowds without feeling intimidated by the larger size.
The bike has a 750W motor that moves 20" X 3" tires. The treading of the electric bike is not assertive as it is among the other fat tires bikes, which makes it move smoothly on the path it is designed for. 
The handles and braking are reliable; and comfortable for people of any height to enjoy.
Pros;
Riders from 4'10" to 6'2" are able to ride this fat-tired electric bike with comfort, choosing from the step-through or standard frame.
A smooth ride for a fat-tire electric bike.
The frame is strong for a foldable electric bike.
Cons;
The seat is sometimes uncomfortable and awkward due to the battery placement.
Surface604 Boar Explorer
Fat-tired electric bikes are not considered mountain electric bikes but trail bikes with off-road features. But Boar Explorer is an exception, and you can ride them off-road. Therefore, it suits the snowy conditions too. 
The 500W motor does not deliver high speed, but you do not need a speedy ride on snow. The bike does not weigh high, too, limited to 50 lbs. 
Though bikes with a suspension fork are a better choice, the rigid fork is the right choice for this particular bike. The tires are large and cushioned to help smooth out the ride with the fork. 
Shimano 9-speed drivetrain and dual piston hydraulic brakes give a good experience in riding your fat-tired electric bike. 
Pros;
Surface604 Boar Explorer is designed to suit off-road trails too. 
500W motor with torque sensor helps you ride on tight terrain.
A 9-speed drivetrain helps you decide on the speed depending on the terrain you are riding on.
Cons;
Dual-piston hydraulic brakes are better if ridden in smooth lanes, and four-piston hydraulic brakes would have been a better choice. It can be bad to ride on snow and sleet if it is rough in your area.
How to choose the best fat tire electric bike.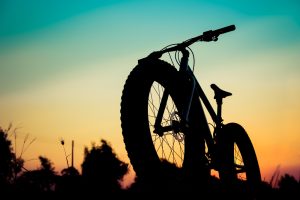 With plenty of models in the market, choosing the one that suits your area, terrains, and preferences is important. There are many factors to consider before choosing the right bike. Each and every bike has its pros and cons, selecting the one with the disadvantage you can cope with among them is the right choice.
   The followings are the factors you should weigh before choosing the right fat tire electric bike for you;
Range
Fat tire electric bikes have large and big tires. It can be exhausting to pedal with this big tire to propel the bike forward. But with the assistance of the motor and battery, the electric bike can propel easily.
Traditional bikes do not use fat tires to propel the bike forward; they use lightweight tires. But with the reintroduction of electric bikes, fat tire bikes too became popular among the crowd. With the help of batteries, electric bikes assist in pedaling; therefore, huge tires can be included in the bike to ride on rough terrains. It does not tire up the rider. 
But to support the pedal assist, the battery should be long-lasting and have a longer charge cycle. Therefore, check the battery and how long it lasts to calculate its range. With a better range, you can travel a longer distance on winter days.
Quality
Quality is one of the essential things to consider when looking out for anything electrical. There are many brands and models that would use cheap and low-quality materials. Therefore, know their old models before investing in their new models. Do your research in the quality they are using and check whether they tear and wear off too soon.
Affordability
Price is another thing to consider. Electric bikes are more expensive than traditional bikes. But it should not be too high. If you know that you are paying for a worthy and quality bike, then it will do. 
Speed and Power
Fat tire electric bikes have large motors to support the delivery of higher speeds in the bike. But are these speeds delivered with safe and measured?
People who are new to electric bikes and who want a bike that is safe on winter days will want to try it out. Therefore, it should meet the standards and the need of the riders.
Knowing how the speed is delivered to the tire will have a great impact when purchasing a fat tire electric bike to use on snow.
Comfort
With the tire that's huge, the frame and the handlebars, too, should be designed with proper geometry to suit the rider's comfort. Sometimes, these huge frames and tires can be hard to control and do not align. And it might be uncomfortable for the rider who has less control over the bike.
 Therefore, check how comfortable it is for you before purchasing it.
A less comfortable bike will be too hard to control on winter days; therefore, make sure to purchase the right one with more comfort.
Efficiency
A bike's efficiency depends on the bike's frame and comfortability. With proper alignment and a good frame, the efficiency of the bike can be measured. The power of the motor and the battery, too, give way to efficiency. 
Usefulness
Fat tires on electric bikes look stylish and trendy. Other than that, do they have any other proficiency? Think of it. 
Just because the bike has fat tires, you would not be able to take them out on winter days. Check for its ability to perform as a part of the bike that would help you on winter rides.
Conclusion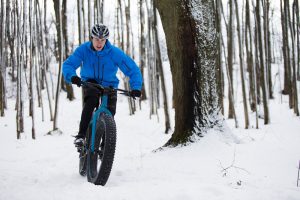 Fat tire electric bikes are known for riding on rough terrains, and it is the right choice for snow. It gives a more stylish look and quality ride on the lanes too. With better braking and motor power that delivers adequate torque. 
   Choosing among the hundreds of models can be hard, but a proper understanding of what you need can help you choose the right one. 
   Winter days need bikes with good control to have a safe ride. Weigh the pros and come of each bike and choose the best-suiting one for you.